Togetherness Trot, Kaylee Strong 5K Walk & Run
Kaylee Strong is Raising Awareness for Ovarian Cancer
Ovarian cancer ranks fifth in cancer deaths among women, accounting for more deaths than any other cancer of the female reproductive system. A woman's risk of getting ovarian cancer during her lifetime is about 1 in 78.  It is one of the most challenging diseases known to medicine and often goes undetected until it has spread within the pelvis and abdomen.  Early detection is difficult because symptoms can be mild and vague and could apply to a variety of conditions, such as irritable bowel syndrome or ovarian cysts.  4 in 5 Women will be misdiagnosed & 1 in 4 Women will wait over 6 months to get a correct diagnosis.  Advanced-stage ovarian cancer may cause few and nonspecific symptoms that are often mistaken for more common benign conditions.
The most typical ovarian cancer symptoms include:
• Increase in tummy size
• Bloating
•Abdominal/back/pelvic pain
•Needing to urinate more often or urgently
•Bowel changes
•Fatigue
More research is needed to find better ways to identify ovarian cancer and to treat it more successfully.  Therefor our Kaylee Strong 5K proceeds will Benefit Ovarcome, an Ovarian Cancer Foundation.  Their Mission is "to raise global awareness, to fund research in search of a cure, and to provide financial support to underserved women in the U.S. as well as developing nations in their valiant fight against ovarian cancer"  Our Goal is to bring awareness, educate others about the symptoms and help Ovarcome with their mission.
Who is Kaylee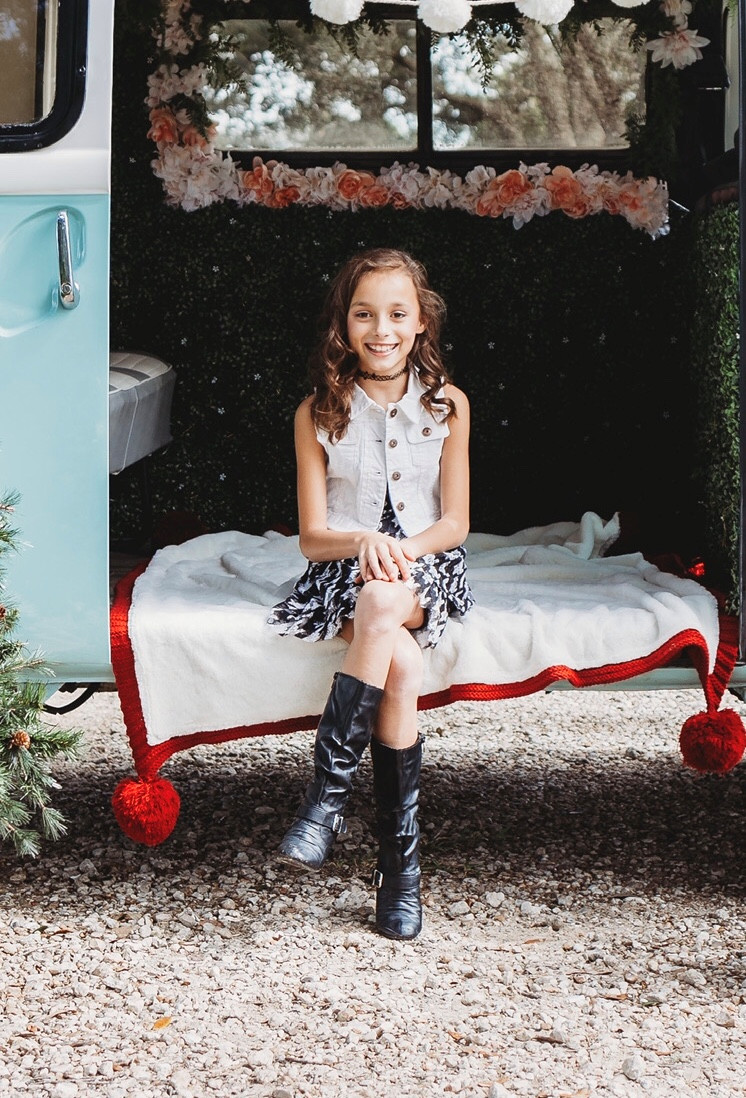 Kaylee is a beautiful, smart, spunky, and STRONG 9-year-old girl who was diagnosed with stage IIIA2 Ovarian Cancer. She underwent surgery at Texas Children's Hospital to remove a 10cm Germ Cell Tumor.  Surgery was a success, but the cancer had spread requiring her to complete 4 rounds of chemotherapy, each round consisting of 1 week in the hospital and 2 weeks home to recover.
Kaylee was not able to finish out the school year, but that has not gotten her down.   Kaylee's motto is "When life hits you, track the weather"!   She absolutely LOVES the Weather Channel, and her role models are Meteorologists – Travis Herzog, Ginger Zee & Jim Cantore.  Some of her favorite shows include Weather Gone Viral, Tornado Alley, So You Think You'd Survive, Secrets of the Earth, Top 10, and on and on.  Watch Kaylee on ABC-13 here::  https://abc13.com/health/fort-bend-county-girl-diagnosed-with-stage-iii-ovarian-cancer/5266024/
https://abc13.com/health/9-year-old-cancer-fighter-appears-on-gma-in-houston/5387014/
She greatly enjoys going to school – Science and Writing are her favorite subjects. Kaylee is a Figure Skater with Texas Gulf Coast Figure Skating Club and an active Girl Scout.  She enjoys playing with her friends, roller blading, painting, writing, playing on her Nintendo Switch, listening to music, especially the band BTS.  Pusheen the CAT is also a favorite of hers.
Kaylee has fought Cancer like a Champ and bringing awareness about Ovarian Cancer while doing so.  She is a true inspiration, and her parents are very proud of her.  They are #KayleeStrong
You can watch her interview with Fox 26 here:  http://www.fox26houston.com/home/houston-area-9-year-old-battles-stage-4-ovarian-cancer
Race Info
When – Saturday, September 7, 2019
Location – Brazos River Park 18427 Southwest Fwy, Sugar Land Texas 77479
Guest Speakers: ABC13 Chief Meteorologist, Travis Herzog & Ovarian Cancer Survivor, Leslie Newton
5k Run/Walk, Zumba Morning Warm-Up, Music, Food & Fun for all while bringing awareness to Ovarian Cancer.
This is a Fun Run.  Will not be timed, and there will not be any awards.  The Kaylee Strong motto is "No One Fights Alone."  This is a Togetherness Trot (Run/Walk), and together, we will bring awareness to Ovarian Cancer as we Run/Walk or Trot Together.
Check out the Facebook Page for Updates.
Race Day Schedule
September 7, 2019 (Subject to be adjusted)
6:00 AM    Sponsor & Volunteer Set Up
7:00 AM    Onsite Packet Pickup/ Check-In
7:30 AM    Zumba Warm Up
7:50 AM    Head to Start Line – Race Briefing
8:00 AM    5K Begins
9:15 AM    Guest Speakers
9:45 AM    Family, Food & Fun
12:00 PM  End of the Event
Packet Pick Up
Papa Murphy's State Hwy 6
8770 Hwy 6, Missouri City, TX 77459
Date & Time – TBD
Race Course
For anyone that's a little hesitant about the 5k Run/Walk, see the below mapped out course and photo of Brazos River Park. This is a non-competitive Run/Walk, and it's all about making it around the course "Together" because "No One Fights ALONE." The Center Circle is the Main Event area and you will never be too far away and can Run/Walk/Jog/Trot or Sit in a Stroller or Wagon (for those little ones) whatever you can or would like to complete! The course is ADA accessible for it is a concrete sidewalk. Please, no bikes.